Summer Camp 2019
Extreme Sports Summer Camp for Kids and Teenagers (Going into 4th grade and above)
For Details About the 2019 Summer Camp

Leave your information and we will be in touch:

Motocycling ¦ Paragliding ¦ Water Skiing ¦ Diving ¦ Kayaks ¦ Wave Surfing ¦ Bicycles Treks ¦ Archery Combats ¦ NERF Fights and more

For more information: Lotem: +972 54-7773317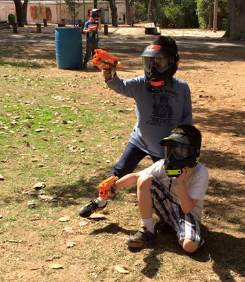 A Week of Summer Camp: In the Kefar HaYarok.

Summer Camp 2019 – Extreme Sports for the children and youth
An exclusive summer camp that you'll never forget. Educational ectivities that build social unity.
Summer Camp Extreme Sports

Session A
29.7-8.8.2018
Session B

12-22.8.2018
(Excluding Friday and Saturday)
Hours:
13:30-20:00 \ 08:30-20:00
Paragliding
Who is it for?
The camp is for both girls and boys, graduates of 3rd grade and up to graduates of 9th grade.
The groups are devided by ages, you may ask to be placed with a friend or just meet new friends there!
The program is approved by the ministry of education.
Staff – Summer Camp 2019
Professional staff will be leading the program with seniority that makes sure each and every boy and girl will have the best experience.
We keep a ratio of one staff member for each 10 participants.

Additionally, the camp is accompanied by a leading coordinator and a logistical support team.

What about meals?
Two meals each day – Snack and dinner.
In case the child is vageterian/vegan or alergic to something, it must be mentioned in the registration form!
What times are dropoffs and pickups?
13:30-20:00 \ 08:30-20:00
(There are no buses for pickups. in cases there are many participants from the same area, buses can be arranged)
Before the camp starts you will get the phone numbers of the staff members present on site.
The saftey guidelines of the 2018 summer camp are kept very stricktly, both regarding the sports activities and regarding drinking enough water and exposure to the sun.
The professional medical team is present in the camp 24 hours a day.
Pricing:
3900 NIS (13:30-20:00)
6500 NIS (08:30-20:00)
The sessions requires a minimun number or registrations to take place