Summer Camp 2020
Extreme Sports Camp For Children And Teens (Starting from kids going into 4th grade)
Dirt Bike Riding ¦ Paragliding ¦ Water Ski ¦ Diving ¦ Kayaks ¦ Surfing ¦ Bike Trips ¦ Archery Battles ¦ NERF Battles ¦ And more!
For details: Lotem 054 – 7773317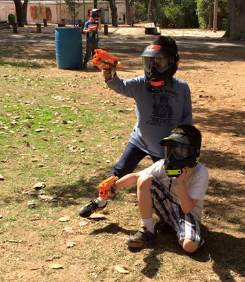 A one-week summer camp in HaKfar HaYarok.
Summer camp 2020 – Extreme sports – For children and teens
A memorable sports camp filled with exciting and unique activities. An education experience that creates social and group bonding.
(Schedule may change)
Extreme Sports Camp
Session A
29.7-8.8.2020
Session B
12-22.8.2020 (Not including Friday and Saturday)
Camp hours:
08:30-20:00\13:30-20:00
Paragliding
Who Should Come to the Camp?
The camp fits for both boys and girls, who are between the ages of going into 4th grade up until those who just graduated from 9th grade. The groups are divided according to ages. You can ask to be with a friend, or simply meet friends here!
Our program is certified by the Ministry of Education.
Camp Guides – Summer Camp 2020
The camp's programs are held by an experienced and professional team of guides who are here to make sure that each of our camp members will have an empowering experience.
We make sure that there will be a ratio of one guide for every 10 participants.
In addition, the camp is also joined by a guidance counselor and a supporting staff.
What meals are there?
Two meals per day: Lunch and dinner.
If your child is a vegetarian/vegan/has any dietary limitation, it must be mentioned in the signup form!
What are the arrival and ending times?
08:30-20:00\13:30-20:00
(Transportation is not done by the camp, in case there will be a group from one area a ride may be organized)
Sometime before the camp you will get the cellphone numbers of the staff who will be present.
In the 2018 summer camp, we uphold safety rules with zeal, in regards to both sports and activity and in regards to sun exposure and drinking enough water.
Certified medical staff is present in the camp 24 hours a day.
Pricing:
3900 NIS (13:30-20:00)
6500 NIS (08:30-20:00)
The camp will only be held if a minimum number of participants sign up.